Residential and Commercial Air Conditioning Installation in Raleigh, NC
Are you ready to buy a new AC? Whether you need AC installation for an existing home or building, or you are building a new home, Bolton Construction and Service is ready to help. They want to be your air conditioning installation contractor for your home or business in Raleigh. They have nearly a century of service in the area and can help you determine the best options for the right air conditioning unit regardless of the application. Don't work with just any AC installation organization, work with the best and the ones that have the longest history.
Commercial Air Conditioning Installation
When it comes to the installation of air conditioners for a commercial building, planning is the key to getting things installed right the first time. You need to know the square footage of the space that you want to have air conditioning for, and you want to have a good estimate for the number of people that will be working in that space on a regular basis. These are important to best determine the number of AC units that will be needed, and then the placement of these AC units can be determined so that there is maximum efficiency.
Your air conditioning installation contractor, Bolton Construction and Service, has years of experience in doing commercial air conditioning installation. They can quickly determine the number and size of air conditioner units that you should have in order to meet the cooling needs of your space, including for people working in the building regularly. They can then make the installation easy so that future maintenance issues can be quickly remedied as well.
Residential Air Conditioning Installation in Raleigh, North Carolina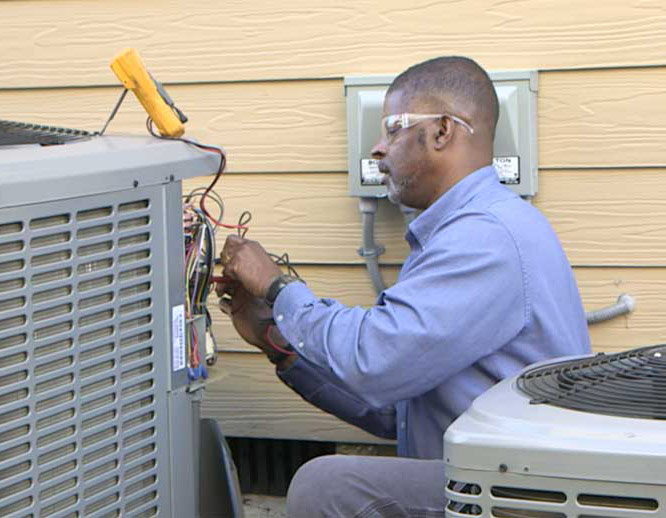 Your Raleigh home isn't that much different from a large commercial space when it comes to figuring out your air conditioning needs. Your space is smaller, but the basic equation still holds. When you are ready for your air conditioning installation, call Bolton Construction and Service for their experienced installation technicians. They will help you determine the best unit for your home and budget.
In 1880, the newspapers News and Observer combined to form The News & Observer. It continues to be Raleigh's primary daily newspaper. The city's Rex Hospital opened in 1889 and included the state's first nursing school. In 1922, WLAC signed on as the city's first radio station but lasted only two years. WFBQ signed on in 1924 and became WPTF in 1927. It is now Raleigh's oldest continuous radio broadcaster. The city's first airport, Curtiss-Wright Flying Field, opened in 1929. That same year, the stock market crash resulted in six Raleigh banks closing.